Gate Repair
Back To Our Services
When considering replacing your front driveway gate or any other gate on your property, your choice of material will play a huge part. You shouldn't decide purely on aesthetics. Different materials will come with varying levels of durability, value and gate repair processes. After all it is likely you will be settling with whatever gate you chose for a series of years. Here are some of the key factors to consider when deciding which material would be best for you.
Wooden Gates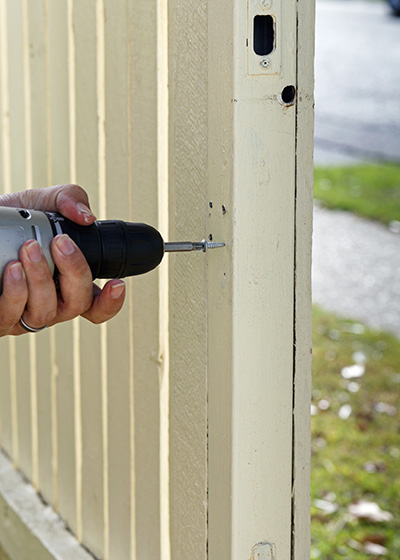 Wood is a natural material that can absorb moisture, this can mean it expanding and contracting through the seasons. It is this process that generally means wooden gates typically degrade relatively fast and need greater levels of maintenance. Wooden gates will have steel or iron hinges, which can be repaired with welding or replaced entirely. If a wooden frame is not treated and coated regularly with protective lacquers or varnishes, it can rot or develop moss growth. In many cases, the outer layers of thick wooden fences can be sanded away to expose a new fresher surface and then re-painted or varnished.
Metal Panel Gates
Panel designs are fantastic as each panel can be repaired or replaced individually. Sliding garage doors are often made from metal panels that fold or roll up when opening. This is very efficient and convenience in terms of space. Metal gates can be very strong while being relatively thin. This attribute makes sheet metal designs widely available and affordable.
Cast Iron
As well as their classical aesthetic, thick iron gates offer the promise of strength and lasting endurance. A high quality iron gate can last centuries if maintained well, this is one of the core reasons they are typically higher in value. When they are neglected it is common for wrought iron gates to need welding to repair any thin detailing or weak hinges.
Expert gate repair
Garage Door Repair Everett offers extensive gate repair services as well as professional installation of all types of new and custom gate. We can make sure your gate is perfectly suited to your daily needs and personal styling preferences.